 Brenna Welton, Administrator
(701) 683-6151
brwelton@nd.gov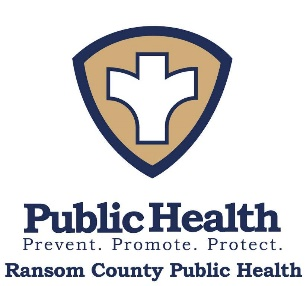 Background
We offer a wide array of services to all Ransom County residents. Our services include: Immunizations, Home Visits, Family Planning, WIC, and Health Maintenance. See our complete list of services on the left side of your screen.
The Mission of the Ransom County Public Health Department is to make a positive difference on the health of the individual and the county through promotion, prevention and protection. This is accomplished through professional staff services and the collaboration with other health and community leaders.
404 Forest Street
PO Box 89
Lisbon, ND 58054

Main Phone: 701-683-6140
Fax: 701-683-6168
Monday-Friday
8:00 a.m. – 4:30 p.m.